Tax Resolution Services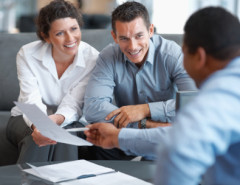 Are tax issues making it hard to focus on other aspects of your life? Do you worry about what back tax issues are going to do to your finances later on down the road? Has your tax situation spiraled out of control? When there's a problem with your taxes, your financial future is at risk. If you're currently struggling with tax problems and don't know where to turn, look no further than David B. Newman, LLC. Our seasoned tax consultants are here to help taxpayers in Houston and beyond attain the type of personalized tax relief services they deserve. If you're looking for comprehensive tax resolution and IRS assistance, our professional tax help team can offer you what you need for one flat fee, so call us today to learn more!
Tax relief strategies should never take a one-size-fits-all approach. Every case of tax resolution is different, with a unique set of circumstances that play a large role in determining your outcome and possible steps for moving forward. The good news is, with 40 years of experience providing tax help services to individuals and business owners alike, David B. Newman, LLC, is well equipped to take on your toughest tax issues. By tailoring our solutions to fit the specifics of your tax problem, we can help you put together a plan that both sides can agree on, so that you can move forward. You can trust our tax resolution services when you need help:
Appealing government actions
Negotiating tax settlements 
Applying for installment agreements
Securing an offer in compromise
Filing for penalty abatement
Claiming innocent spouse relief
Ending wage garnishments
Lifting bank levies and liens
And so much more!
No matter what kind of assistance you need, the tax attorneys at David B. Newman, LLC, are here to provide it. Whether you need to scout out past errors that have raised red flags with the IRS or you're suffering financially due to your wages being garnished, leave it to our top-notch tax relief pros to provide the step-by-step tax help and IRS assistance you need. We're fully licensed and insured to be your go-to tax consultants, so there's nothing to fear with us by your side. 
Don't let worrisome tax problems continue to weigh you down. With our extensive training and flat-fee pricing, it's time to call in the pros from David B. Newman, LLC, for your free consultation. We're happy to welcome both individual and corporate clients to our Houston office, and we offer tax debt relief services 24/7 to meet your needs. When you turn to us for IRS tax resolution, you can expect nothing but discreet and diligent attention to your tax settlement troubles, from the moment you give us the go-ahead to your last sigh of relief. We'll even provide you with a free estimate, so you will know just what it costs to pursue tax help. Call now to find a solution to your IRS tax problems. The sooner you bring our qualified tax pros in to help with your tax concerns, the quicker you'll experience tax debt relief! 
tax penalty abatements
tax resolution
tax settlement