Tax Preparation Services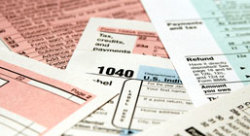 Do you need professional help completing and filing your tax return? Are you worried that you'll make a mistake on your returns and end up underpaying your taxes? If you're stressed out about tax preparation, put an end to your worries today by calling on the tax preparers at David B. Newman, LLC. Serving Houston and beyond, our income tax preparation pros can help individuals and business owners who are having trouble with their returns. Whether you're curious about which exemptions you qualify for or you want guidance on how to complete late returns, our tax services are perfect for your needs. Call or e-mail us today to speak to a tax preparer about your options!
The smallest mistake on your tax return can have serious consequences, and you can end up owing the IRS thousands in back taxes or even missing out on a refund. That's why it's important for you to hire the tax preparation team at David B. Newman, LLC, to handle your returns. Our tax preparers are available to assist you with:
State returns
Federal returns
Amended tax returns
Business returns
Payroll withholdings
Back tax returns
And much more!
If you're not sure about what to do with your returns, don't take the chance of filing incorrect returns. Instead, speak to a tax preparer from our team and get the help you need to achieve the best result. We have 40 years of experience providing tax services to individuals and business owners alike, and that means we have what it takes to offer you accurate, effective federal and state tax preparation assistance.
Free Estimates for Tax Preparation Service
When you're frantic about preparing your tax returns, the last thing that you'll want to worry about is taking on another financial burden. As a family-owned tax preparation company, David B. Newman, LLC, understands this, and that's why we're committed to offering our customers free estimates for our income tax services. All new clients receive a free initial consultation, where they are able to sit down with one of our income tax preparers and discuss their needs. This will allow you to determine if tax preparation services are right for you and your budget. Once you speak to one of our attorneys about your needs, we have absolute confidence that you'll turn to our tax preparation service for help with your returns. To learn more about your options for income tax preparation, call or e-mail David B. Newman, LLC, today!
Tax Filing Service
Tax Prep Service
File Tax Service
Tax Preparation Services