Back Taxes Assistance
Late fees and penalties on unpaid taxes can spell financial ruin for just about anyone. They just keep piling up and piling up until it becomes unbearable, if not impossible, to get out from underneath them and pay back with you owe. If back tax issues are causing issues for your personal or business finances, let David B. Newman, LLC, help you find a way to deal with the stress of unpaid taxes. Our experienced tax attorneys provide tax assistance for both individuals and businesses in the Houston area, and we have the back tax solutions you need to effectively deal with your late returns and get your finances back in order. Call or e-mail us today for your free consultation!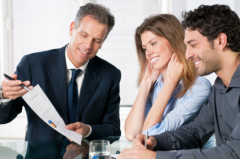 Think that your delinquent taxes aren't going to cause major financial issues for you down the road? You should think again! The longer you don't pay, the more fines and late fees will add up. After awhile, your back tax issues could take over your entire financial life, and you could find yourself facing financial ruin. Don't put off taking action until the IRS garnishes your wages or tries to place a lien on your property or other assets. Instead, call or e-mail David B. Newman, LLC, today, and you'll receive prompt, professional tax assistance with everything from offers in compromise and installment agreements to property lien releases, and wage garnishment cessation. There's no tax issue that we can't find an appropriate solution to, so there's no reason to delay in getting tax help from our seasoned pros.
From filing late tax returns in complete accordance with the law to representing your best interests before the IRS, the experienced tax attorneys at David B. Newman, LLC, are ready to find the most effective method for dealing with your delinquent taxes. We know what it takes to craft a repayment plan worthy of the IRS's approval, and we'll make every effort to keep your unpaid taxes from causing you severe financial harm. We'll work hard to come up with a plan that suits your needs and your budget!
Comprehensive Help with Delinquent Taxes
While some tax professionals only prepare returns or take a one-size-fits-all approach to serving clients, David B. Newman, LLC, provides all-inclusive tax help and believes in providing individualized service. We understand that the circumstances surrounding unpaid taxes can vary widely from one case to the next, and that's why we'll work hard to get you personalized attention to your back tax issues. For your added convenience, we offer free, upfront estimates to new customers, and we charge just one flat fee for filing past years' returns and resolution services. That's a significant savings over firms that bill you in separate increments. You have enough expenses to worry about with your back taxes as it is; you shouldn't have to rack up huge charges for back taxes help too! 
At David B. Newman, LLC, our licensed and insured tax help pros will make certain that your tax situation is handled with as little stress or hassle as possible. We have 40 years of experience with resolving back tax issues, and we're ready to use our firsthand knowledge to your advantage. Throughout the years, we've seen a wide range of IRS back taxes issues, and that means we have what it takes to offer you effective back tax help.
Specializing in back taxes and IRS assistance in the Houston area, David B. Newman, LLC, offers free estimates, 24/7 availability, and flat-rate pricing. If you're interested in an initial consultation at no charge, call or e-mail us right away and get your unfiled tax returns handled right away!
Prior Taxes Help
Penalty Abatement Assistance
Tax Help
Offer in Compromise Assistance