Accounting Services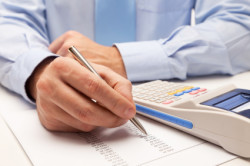 Are you looking for a professional accounting service to help you through some financial difficulties? If your financial situation calls for help, you don't need to waste your time searching through listings for local accounting firms. Instead, you can call on the pros at David B. Newman, LLC. Serving Houston and beyond, we're the smart alternative to local accounting companies. Our team of licensed and insured tax attorneys provides a wide range of accounting services, so you can come to us when you're in need of financial assistance. Whether you're having payroll issues or you need advice on how to start a new business, we're here to offer you top-quality tax and accounting services. Call or e-mail us today to benefit from our accountant services!
The tax attorneys at David B. Newman, LLC, can provide you with many of the same great services that you can find at an accounting company. However, all of our accounting services are backed by our legal expertise, something which most accounting firms in the Houston area don't have. Our tax attorneys have been providing individuals and business owners with tax resolution services for 40 years, and we'll use our advanced knowledge of tax codes and laws to ensure that your financial issues get solved quickly and professionally. Our accounting service options include:
Back tax filing
Bookkeeping help
Tax preparation
Payroll tax help
Financial planning
New business setup
And much more!
If you need any of these services, there's no reason to turn to an accounting company. Simply let our seasoned tax attorneys handle your issues and offer you effective tax and accounting services. Whether you need personal or business accounting services, we'll be able to offer you solutions that will address your issues in the most effective and professional manner possible.
24/7 Tax Accountant Service
When you need tax accountant services, waiting around to get the help from accountant companies can be stressful. If you choose to work with David B. Newman, LLC, you'll get the accountant services you require no matter when you need them. We're proud to offer accounting and bookkeeping services 24/7, so that our customers never have to go through too many sleepless nights worrying about their finances. If you're tired of working with accounting companies that can't offer you service when you need it the most, let David B. Newman, LLC, handle things for you. Our tax accountant services are second to none, so call us today for a free initial consultation and get your tax issues under control!
accounting firms
accounting company
cpa firms